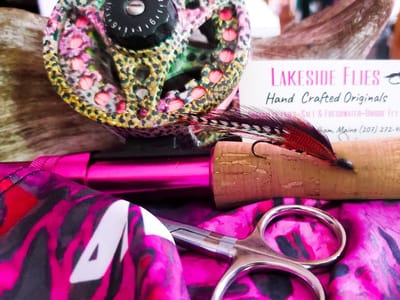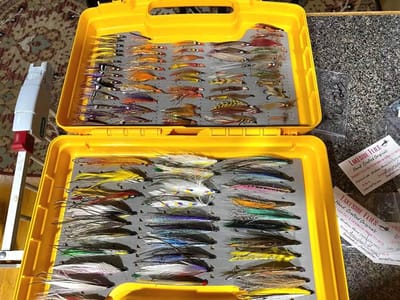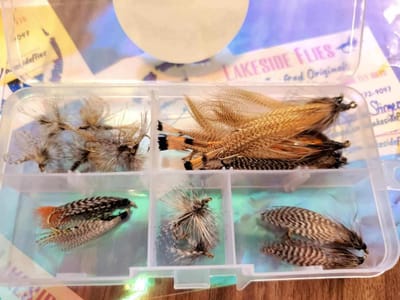 Hard to believe its September.
First of just want to say you are all not "just" customers or clients. I consider everyone that supports me like extended family. A fabulous bunch of fishing men, women and even kids ! Thanks to all of you my flies are gracing the waters from New England to Alaska ....Texas to New Brunswick, CA.
I do all the tying but may need to train a few apprentices to keep up now!
My apologies for no summer newsletter due to the tying & fishing frenzy! Summing up the summer season it was productive all over despite the lack of rain and hot temps. It did make fishing a bit of a challenge in some areas.
Spring to summer was crazy busy. Tying was at its Max! Tedious at times to keep up....lol
But so rewarding when the fishing photos & tales come in! I love hearing everyone's feedback from their fishing adventures and seeing all the beautiful fish and places people are using my flies.
It's truly fun for me to learn about new places people are fishing with my flies. When I get a new order from another state or Canada I love educating myself about the waters & species in their area.
We at Lakeside Flies had a great DownEast Maine summer fishing trip. Despite the lack of catching a salmon. The trip was fun. Lots of Bass, Perch, pickerel. Catching anything is better than nothing. Did lose a couple salmon that hit the flies. Still exciting despite not netting them !
Now the fall fishing season is amping up. Its a favorite time for anglers with the cool waters , crisp air & fish on the move. Great time to target the brook trout and landlocked Atlantic salmon. Brook trout develop their spectacular, almost regal, fall colors and salmon are known for their acrobatic displays.
Here is a great read about areas in Maine cover your flies to use in each area and what to get from Lakeside Flies. ♡
https://www.maine.gov/ifw/fishing-boating/fishing/fishing-report.html

A little fun I thought throw in this newsletter:
What are your answers? 😁
Why do you fish ?
What is your favorite way to fish?
What is your favorite species?
Do you have a lucky rod?
Do you have a good luck charm ?
Do you have a favorite spot?


Simple for me ....I love to fish because it's relaxing. Some may not think that so much . Yes I admit I'm like everyone else that wants " bragging rights" for a monster fish. But mostly I want a serene setting to spend a few hours outdoors . I truly love " trolling with flies". Trolling in a boat for salmon or trout is as relaxing as it gets for me . It's as easy as tying on that perfect fly and doing laps around a lake till you find the fish. Watching the fish rise & strike is such a thrill for me. I will spend hours on the water trying with my lucky pink fly rod & good luck charm( our dog). Favorite places are Downeast Maine lakes, they are mostly unpopulated and pristine.


My personal favorite patterns that have yet to let me down are :
Salmon Slayer
I've caught so many salmon on this pattern that I will never stop using it.
Breadwinner Testimonials from lake after lake for this fly ....everything from Rainbows to salmon and even some browns .
Bibeaus Rain Simple and effective. A favorite on Sebago Lake here in Maine targeting salmon on a dreary salmon chop day.
Rainbow Smelt
It is what it is.... an ultimate fly for any waters and just about any species. If it's smelt the predators want. This is a killer.
Alewife
Imitation at its finest. If it's an alewife body of water...this is my go to .





Some of my picks for Stream/Brook Flies:
Wood Special
Brook trout cannot resist it!
Maple Syrup
Don't doubt this little treasure.
Golden Retriever
Hot flies here in Maine, New England area. Also been told they are hot in No Carolina!
Bright Butt Stimulator
Like your basic Stimulator with a twist. Such a great dry fly for Cutthroat & Brook Trout. And just about any hungry small stream fish will hit it. A perfect little creation that works well for backcountry fish who have never seen a fly.
Flashy Caddis
Caddis flies hatch in frenzies all across the US. The standard caddis may be the most common dry fly in any angler's box. I prefer a bit of flash. I like that extra bit of attention the flash gets admist all the look alikes.
Backwoods Bugger
A small fly created to attract anything hungry in the stream or brook.
Fallen Moth
Absolutely Irresistible to trout species. The minute it hits the water this fly gets attention. A hot hot fly this summer.
When I want to escape the hummmm of the motor or lake traffic . I love to take to the remote woods. Seeking complete solitude and just drinking up the scenery of the backwoods. Fly fishing is a true art form of fishing . It takes skill, that once mastered comes with ease. Its and adventure in itself. Trying to find a remote stream to cast a line. Watching your footing, surroundings and "casts" ! One good perk, you don't need a lot of gear, and the fishing can prove to be absolutely plentiful.. With the bare necessities of the right gear you can be super productive .
A fly rod geared for small streams & small box of fish-worthy flies and dress yourself for the elements. And always have a compass, gps or let someone know where you'll be if you're trekking alone.
So to sum it up... make a list of your fishing "loves " ❤️
Get some flies, tie one on. Wether it be a lake,pond,river....etc. let me see what I can do for you .